Introduction 
In todays' digital world, the eCommerce website development and the technology market have accelerated the growth regarding new segments and played a great role in the efficient management of online stores, which brings the offline world to innovation.
It accelerated growth and emerged at a huge level at the time of the pandemic. The people expect things to be there at their place only.
Few platforms are trending among the retailers, which allow them to taste a new flavor of building an online store. All they need to do is choose the best among them.
Magento
Magento is an eCommerce platform for web store development built on open source technology that provides online merchants with a flexible shopping cart system and control over the look, content, and functionality of their online store. 
Common Places uses the community-based product for our eCommerce clients. This ability to scale allows shops with only a few products and simple needs to easily expand to tens of thousands of products and complex custom behavior without changing platforms. It offers a variety of plugins and themes which can easily enhance a customer's experience. There are a lot of aspects of the online store which need to be configured, and how well that is accomplished is often dependent on business acumen. Regarding custom, functionality means that is where more complex programming is required.

Also read: Fast Magento – What Makes It Elite?
WordPress
WordPress is an open-source CMS, so it is easy to manage important aspects of the website, like content, without knowing anything about programming. It is a site that allows you to build a website that meets your unique and specific needs and lets you stay comfortable with your decision. You need to start a blog, business site, portfolio, online store, or anything else you can imagine, and the rest of WordPress will do. At its core, it is the simplest, most popular way to create your website or blog. With built-in optimization and responsive, mobile-ready themes, there's no limit to who you can reach with your new website. You need to create a simple website for yourself or sell products worldwide.
It all depends on your call. As per estimates, it powers over 40.0% of all the websites on the Internet. And what we get in the end is that WordPress website development makes building a website accessible to anyone – even people who are not developers.
Shopify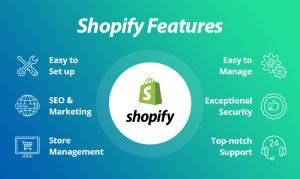 Shopify is the leading cloud-based, multichannel commerce platform designed for small and medium-sized businesses. Merchants can use the software to design, set up, and manage their stores across multiple sales channels, including web, mobile, social media, marketplaces, brick-and-mortar locations, and pop-up shops. The platform also provides merchants with a powerful back-office and a single business view. The Shopify platform was engineered for reliability and scale, using enterprise-level technology available to businesses of all sizes. Shopify currently powers over 800,000 businesses in approximately 150 countries and is trusted by brands such as Tesla Motors, Budweiser, Red Bull, LA Lakers, the New York Stock Exchange, GoldieBlox, and many more. Hire a Shopify web development company to get a customized store to meet your client's needs.
Wix
Wix is a leading cloud-based web development platform with millions of users worldwide. This is a drag and drop builder where you can easily create and promote your business. The Wix website builder has everything you need to create a fully personalized, high-quality, free website.
Squareup
Squareup has few features to offer the average merchant as a standalone product. If you're using Squareup for your online business, though, there might be something here for you. 
Why use Shopify for your Online Store Development?
Shopify sets new limits for businesses and individuals who want to develop a long-term professional eCommerce site. This is the cloud-based platform to build an online store that can fulfill the requirements of the customers in a very efficient and effective way which leads to the prosperity and growth of your store. 
These are some of the basic features of e-commerce that make it stand apart by enhancing its quality.
Product management: Product management always plays a crucial role in standing in the market and attracting users to product and their management. Shopify offers a great product management system.

Category management: It allows ease to the customers as it is easy to find and select products by category.

Inventory management: It plays a very important role for businesses as it allows the management of products left in stock, what and how much is imported, and what is exported.

Client Account: The client account is an account status, transaction history, preferred catalog, address, and shopping cart which keeps the records of the client.

Order Management: It makes management possible by keeping records of the orders made by the customers.

Payments: Offer as many payment methods as you can in your online store as due to the rise in digitalization, people prefer to pay in their way for the products or services they have purchased from your store.

Search technology is very fast, friendly, and supports searches like on Google SiteMap.

International support

Promotional and marketing tools used include coupons and promotions.

Provide in-built reports essential to making informed decisions.
Things to Keep in Mind Before Launching Online Store
Everyone wants to know how to build an eCommerce website to sell their products to a wider audience. Nowadays, it has become quite easy to do this; look for an eCommerce website builder, sign up, and tweak your way through it.
But there are some bits and bobs that you should think about before investing your time, money, and efforts.
Creating an online store is as challenging as running an actual store. You can't find it so easily.
Here are some of the fundamentals of how to make online shopping websites for novices:
E-commerce website design and user interface
The rule of thumb is ease of use. You're likely to enjoy high conversion rates if you can give this to them. What do you hate about product search? Work from there, and you'll never go wrong.
Payment gateways
The more payment gateways available in your store, the bigger your sales will be. Convenience translates to sales which will benefit you directly. If you have dozens of supported payment modes, your customers will consider it a big plus. Don't get me wrong; not all stores need many payment gateways. It would help to know what mode of payment your potential customers are using.
Level of customization
Most newbies will resort to choosing a sleek template and settle with that. There's nothing wrong with this as long as it serves its purpose in your store. Still, it won't hurt to look at eCommerce website examples for added inspiration. You can also go with Shopify theme development from scratch to enjoy customized features in your online store. It will help you address all the requirements you want to incorporate into your online shop. With the help of Shopify plus development company, you can customize every bit of your online Shopify store according to your preferences.
Conclusion
In a nutshell, I would say that unlike managing a brick-and-mortar store, online shops require additional effort. Aside from creating the online store, there are further tasks that you need to fulfill to start selling.
For everyone knowing how to build an online shop is one thing, but knowing how to sell is another as it is different. Make sure that you see and think about the bigger picture and future consequences of setting up an online shop. It can be tumultuous for you at first, but the learning curve will not be steep.