Manali the "adobe of snow" is the most adorable hill station of Himachal. The snow-covered Manali is known for its untouched beauty. The winter season in Manali fills the sense of joy inside the tourist since it is the time to witness snowfall in Manali. With this, visitors start booking their Shimla Manali Tour packages. If you are also one of those, you should be aware of the places to visit and activities to enjoy in Manali during snowfall. So, here in this article, let us describe all these things,
Best Places To Witness Snowfall in Manali
Solang Valley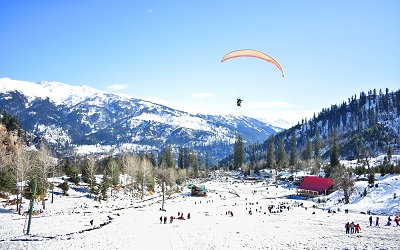 Solang Valley is surrounded by the Himalayas and the Pir Panjal ranges, forming an exotic view. It is just at a distance of 14 km from the central city. Solang Valley receives high snowfall during the winter, covering the nearby ranges with snow and preparing the valley for winter activities.
Things to do: Trekking, Photography, Hiking, Skiing, Solang Valley Ropeway ride, witness the Winter Carnival, etc.
Places to visit: Kothis, Himalayan National Park, and Rohtang Pass
Gulaba
If Rohtang Pass is closed, then the best alternative is Gulaba which looks like the Rohtang Pass. It is at an altitude of 4,300 meters and is a prominent tourist destination. The fascinating snow-clad mountains are the major attraction of Gulaba.
Things to do: Trekking, Paragliding, Hiking, and Skiing.
Rohtang Pass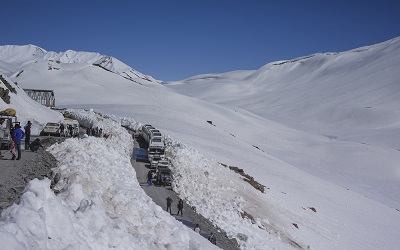 Rohtang is the most explored destination of Manali tourism. Whoever visits Manali cannot resist going to Rohtang Pass. The place offers you picturesque views and the chance to enjoy several activities such as ice-skating, sledding, Paragliding, etc.
Things to Do: Snow scooter driving, Paragliding, and Heliskiing
Places to visit: Lahaul and Spiti Valley, Rahala Waterfalls, and Solang Valley.
Manali Mall Road
Manali Mall Road is located at the heart of Manali in the center of the city. Being at the center, it remains the busiest tourist place in Manali, where you will always find a good number of visitors and a crowd. The place is best known for its local shops, malls, restaurants, etc. During the snowfall, the entire look of the place changes, and it seems like a shopping street built in paradise.
Things to do: Enjoy shopping from the local shops, Taste the delicacies of Manali, etc.
Tosh
Tosh is another major destination to witness the snowfall in Manali. It is a place away from the city's pollution and noise. So, if you want to become a part of snowfall watching in a peaceful place, Tosh will be a fantastic option. It is situated in the Parvati Valley and gives you beautiful scenes of the Pin Parvati Pass.
Things to do: Sightseeing, Camping, Bonefire, etc
Places to visit: Parvati Rivers, Third Eye Tosh, Mysterious Kutla.
Things to Do In Heavy Snowfall in Manali
Skiing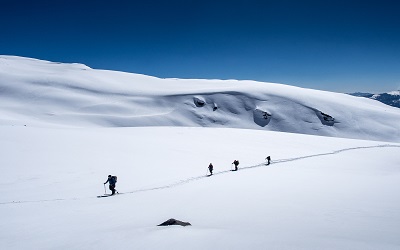 Skiing comes first when it is about the snowfall activities in Manali. The best places to ski in Manali are Solang Valley, Marhi, Rohtang Pass, Gulaba, etc. It is a fantastic sport whereby you are tied to the thin board-like structure, and with the help of the sticks you get, you need to push yourself and enjoy the slopes.
Snowboarding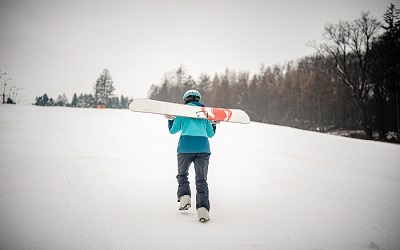 It is one of the new activities to enjoy in Manali during snowfall. In this activity, your feet are tied to a board, and then a gentle push is given to you. For the first-time doer, it is advised to seek professional help.
Heli-Skiing
Heli-Skiing is one level up from skiing. In this, you are dropped to the highest peaks of the hills from where you ski downwards. The prominent places to enjoy it are Chanderkhani Pass, Hanuman Tibba, Rohtang Pass, etc.
Sledding
Though sledding is something everyone has heard of because of the Santa Clause. But it can be enjoyed by you as well. You need to adjust firmly on the wooden sled, and the rest will be the work of the wild dogs and wolfs who will pull you.
Apart from these activities, one can also enjoy Ice-climbing, skating, ice-skating, paragliding, trekking, hiking, etc., during snowfall in Manali.
Places to Stay in During Snowfall in Manali.
Solang Valley Resort: Solang Valley Resort is located at Palchan, and the price here begins from INR 8,600. This is a 5-star resort that will give a fantastic view of the Mountains from the balconies and windows. It is highly suggested to the Solang Valley visitors.
The Orchard Greens: This hotel is in the Log Huts Area in Manali. This high-profile hotel offers you several facilities such as majestic halls, conference rooms, luxury rooms, etc.
The Allure Grand: This beautiful modern hotel is on Manali Rohtang Road. The various facilities available here include a gym, coffee shop, spa, conference halls, rain showers, swimming pool, multi-cuisine restaurant, etc.
River Side Guest House: River Side Guest House is located opposite Clubhouse Road in Old Manali. The starting rates of the rooms here are INR 1,800. Here, you get three room options: primary, deluxe, and luxury.
Tips for Coming During Snowfall in Manali
If you are visiting Manali to witness the snowfall, i.e., during the winter season, then make sure you are considering the following tips:
Pack the heavy woolen clothes to protect yourself from the cold wave.
Since you are going to heavy snowfall areas, make sure to have gumboots or buy them from a street vendor.
If you want the accommodation facility at cheap rates, stay away from the Mall road hotels. Being the crowded area, you will be charged higher over there.
Carry a case of personal Medication for any emergency.
Try to eat less or limited foods to avoid nausea and food poisoning.
Whenever you travel to some other places, you prefer traveling during the day only.
Always have a printout of your identity proofs.
Conclusion
Therefore, if you plan to visit Manali during the snowfall season, make sure you have gone through all the points mentioned above. Also, pick the best places and activities for yourself and accordingly complete your packing. But still, if you are not prepared, then get a tour package for Shimla Manali and get yourself ready for Manali's snowfall.