If you're not much into sports, you might find it challenging to buy gifts for a sports-crazy boyfriend obsessed with his favorite teams. He's probably got all the posters and framed team pictures he needs, and any collectible or fun memento you might think of is guaranteed to put quite a dent in your budget.  
But don't worry, you don't have to spend a fortune to impress your one true love. The best part about your boyfriend being a huge sports fan is that you can get him anything even remotely sports-related, and he's bound to cherish it. Even gift cards, which you can customize with an image, for example, him at the big game, would be adored.
Take a look at some of the top gift ideas that will be perfect for any event – birthday, anniversary, housewarming party, and everything in between.  
A baseball set 
You can never go wrong with baseball gifts for boys. Whether he only likes to watch it on TV or he regularly participates in neighborhood baseball games, he'll love any gift inspired by his favorite sport.  
Although a personalized baseball hat, jersey shirt, or a replica of a signed ball would be nice, your best option would be getting him a high-quality baseball set containing a catcher's mitt, some batting gloves, a good bat, and of course, a baseball. Any true sports enthusiast will always need an extra baseball set to replace any worn-out equipment.  
A large duffel bag 
Every guy needs to have a large duffel bag for the essential sports equipment in his house. It keeps everything neatly stashed in one place and is perfect for gym visits or even unexpected sports outings on a Sunday afternoon – just grab the bag, and you're ready to go.  
So, if your boyfriend doesn't already have one, make sure to get it for him. They come in a million different designs, and the chances are that you can even find one with his favorite team's logo on it. Take it a step further and print a custom design with his name on it.  
UA long-sleeve base layer 
A good, high-quality base layer is the perfect gift for a sports fan – there's no question about it. It can be useful for any type of sport – from baseball to soccer, volleyball, even martial arts, and a game of frisbee.  
Considering that Under Armour is the most well-renowned sports equipment company, a UA long-sleeve base layer is guaranteed to be something your boyfriend will love. Just make sure to pick something in his favorite color.  
A pair of high-quality sneakers 
As long as you know your boyfriend's shoe size and general shoewear preferences, you can go ahead and buy him a pair of high-quality sneakers as a surprise. Otherwise, we recommend taking him with you when you go shopping for this gift.  
It's a practical, thoughtful gift, especially for someone who's just as into playing sports as he is into watching them. 
Two tickets to his favorite game 
Sports tickets can be expensive and hard to get, but if you're up for it, get your man two tickets to his favorite game. No other thing would bring quite such a grin to his face as this kind of gift.  
However, make sure to check in advance whether he can go to the game. There's nothing worse than having a ticket to see a team you're obsessed about in person only to realize that your boss won't give you a day off to actually go.  
A folding chair for a comfortable tailgating experience 
The greatest thing about being in a relationship with a sports-crazy boyfriend is that he's likely to have many sports-related interests – watching sports, playing them, even tailgating outside the sports stadium. And if tailgating is one of his favorite hobbies, then a good, comfortable folding chair would make an ideal gift.  
Preferably, look for a chair with a cup holder that comes with a convenient storage bag so that it doesn't take up too much space in his trunk.  
A personalized throw blanket  
Some sports enthusiasts are much more interested in watching sports than playing them, and the following few gifts are for them.  
A personalized throw blanket with a print of his favorite team might seem like a childish gift, but it's the perfect choice for someone who's into watching winter sports. He gets to cozy up in a blanket and follow an intense game in the utmost comfort.  
A set of glass beer mugs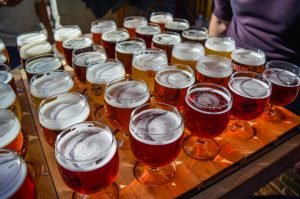 Over 76% of sports fans prefer drinking beer on game day as opposed to any other beverage. If your man and his friends fall into this category, then a set of glass beer mugs would be a superb present.  
Extra points if you go for beer mugs with sports decals or custom engravings on them.  
An NFL cooler 
Another great gift for a beer lover/sports fan is an NFL cooler that can fit dozens of beer cans. After all, no one likes drinking warm beer on a hot summer day during an important game.  
A set of basketball whiskey stone chillers 
Finally, if you're dating a refined gentleman who prefers whiskey to beer on game days, get him a set of basketball (or any other type of sports ball) whiskey stone chillers.  
Final thoughts  
Buying gifts for sports fans isn't nearly as difficult as it may first appear. 
Visit Here businesshunt360 for Marriott tv