Pastel, zingy or light colors are suitable during summers, while dark colors work better during winters. Color is also a matter of heat absorption and science, and dark colors are considered warmer, whereas light colors are fresh. So, you can replace your standard colors with exclusive winter collection full sleeve t-shirts.
The fashion world is ever-changing and it's important to stay on top of the latest trends and styles. As we approach the winter months, there are a few style choices out there that should be avoided as they're both outdated and unflattering. To help you avoid these, we've highlighted 7 full sleeve t-shirts every man should replace this winter.
The All-New Collection of Full-Sleeves Tees Taking Heart of Every Man 
The full-sleeve t-shirts don't exactly push the limits in terms of style. Their additional arm-lengths appear to provide this piece with more versatility and scope. You reach for them whenever it's too cold for a t-shirt but too hot for a sweater. They are also great for layering under lightweight jackets.
Besides, when the sun shines, and the temperature rises, UV-protected full-sleeved tees help you stay safe from sunburn while keeping you comfortable. So, you can wear them all year round, whether the sun is shining or winters around, but in the right way and the proper context.
Top 7 Full-Sleeves T-Shirts to Replace In Your Winter Collection
A few elements are there to consider while deciding what type of Tees will work during winters. The primary aspect is the fabric of the t-shirt, and another is its style. If you want to get right to the point, here's a fast rundown.
Color Block T-shirt
With this color-block sweatshirt from Feranoid, you can make a fresh and fashionable fashion statement, catching everyone's attention. While you're out with your friends, mix this outfit with a pair of casual jeans or chinos to style your attire. Its triple-colored design adds to its cool factor, while the cotton fabric ensures maximum comfort. To achieve the greatest fit, refer to the size chart.
Zipper T-shirt
With a Zipper High Neck full sleeves pullover with solid color, this t-shirt adds a distinct selection to your casual wardrobe. It's a Regular Fit that's both comfy and fashionable and is made from a special mix of polyester pique and cotton fabric. This Zipper High Neck tee is a basic style but not a boring pattern and may be used for a long time. Its poly-cotton ultra-soft material is comfortable, lightweight, and breathable, making it ideal for layering in cold weather. You can wear it to get the utmost royal status, and it is appropriate for everyday activities, college, travel, and casual wear.
Graphic T-shirt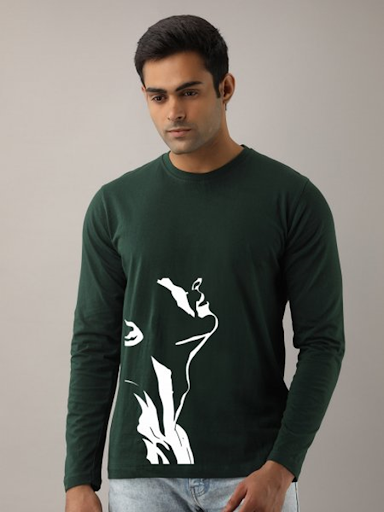 Look your best in this fashionable new design of Feranoid's men's Green full sleeve t-shirt collection. This round neck latest tee is a must-have for your wardrobe due to the fashionable and youthful style. It's all-over graphic design, soft 100 percent cotton, high-quality fabric, and custom fit make it ideal during winters. 
High Neck T-Shirt
With this nice grey high neck t-shirt this winter, you may make your fashion sense a new flavor. It is ideal for the dynamic man in your life. This fashionable piece of clothing will add a new dimension to your collection, and it looks fantastic with any ensemble. Sometimes all you need is simple, solid-colored clothing to create a statement. This tee shows your straightforward yet outspoken personality.
Plain T-Shirt
Feranoid introduces fashion-forward power dressing to today's multi-faceted professional's wardrobe, making it ideal for the workplace and beyond. Its sophisticated elegance embodies today's statement of style. The brand's apparel line focuses on individualism and self-expression, breaking the nine-to-five and traditional dressing norms.
Henley T-Shirt
Pure cotton, standard fit, full-sleeve, round neck, these multi-purpose t-shirts are the best in class. You can wear it to a party, picnic, sports club, or at the gym. The best thing is that its color will never fade. They are made of high-quality fabric and look cool in this contemporary color. It's a must-have for the winter season because of its youthful style, custom fit, and high-quality cotton fabric.
Typography T-Shirt
 This Feranoid's full sleeve t-shirt with cute typography printed on it, made of 100 percent premium cotton fabric and precisely tailored to fit, is the best of the lot. A finely textured quote and an artfully designed fit give you a sharper and more attractive appearance while maintaining a snug fit. The tees' embellishments and fabric are of rich quality, premium blend while being eco-friendly. All of our goods are of the highest quality and are built to last. You can wear it with chinos, khakis, trousers, jeans, and other seasonal attire.
Conclusion 
In the winter, Tee is frequently worn as part of layered attire. In that instance, whatever you wear should be complementary to the remainder of your ensemble. While darker colors are timeless and possibly warmer, every color may work nicely in the overall context of your outfit. Feranoid online fashion store brings a wide selection of full-sleeve t-shirts to extend the traditional concept of the tee a little farther, which usually covers the arms better. So, follow the latest trend and select from this style guide to replace your usual colors with this exclusive winter collection.
Also Read: The Importance Of Kurtis In Indian Society