It can be challenging to decide on a career path. You're supposed to choose a profession you enjoy but also take into account issues like long-term stability and the ability to pay for the living you choose. A career in digital marketing is an option.
When it comes to choosing a professional field in school, many people can not understand a career in this industry or its growing breadth. When you consider the developments in this fast-paced business, though, you'll see that the digital marketing employment situation is optimistic and will continue to be so in 2022 and beyond.
There's no avoiding the fact that practically every firm, sooner or later, will need to incorporate digital into their marketing efforts. And, because the growth of digital marketers outnumbers the supply, there are lots of openings for interested professionals. Thus, this is the perfect time to join a top-notch digital marketing institute to learn internet marketing and make a successful career in this rising field.
As a result, in this post, we'll look at how to get started in digital marketing by:
Reasons to choose a career in digital marketing
Reasons for the demand for digital marketing
Job opportunities in this field with their salary
But first, let's define the term "digital marketing."
What is Digital Marketing?
The term "digital marketing," commonly referred to as "online marketing," means the practice of building brand awareness using the web and other forms of digital interaction. This is done to engage with potential clients to sell our products or services. This comprises emails, social networking sites, web-based advertisements, and textual and multimedia messages as a marketing platform.
In some aspects, digital marketing is similar to traditional marketing. You have a product to offer and seek ways to communicate with customers to create brand awareness and ultimately "close" a deal.
However, digital marketing covers even more jobs and abilities than traditional marketing, and it's the business's adaptability that makes it so exciting.
7 Major to Choose a Career in Digital Marketing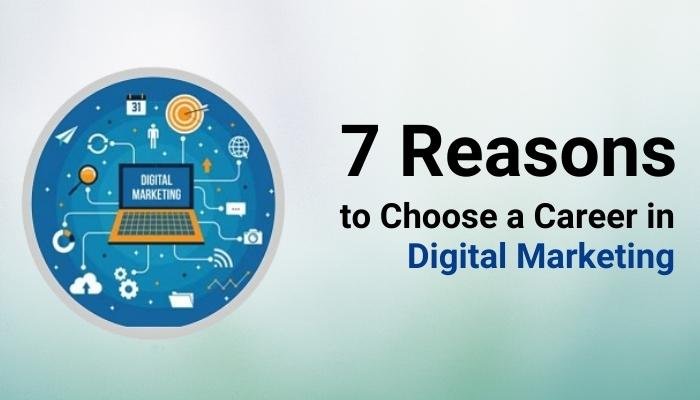 1. Digital Skill Gap
The digital skills gap refers to the disparity among supply and demand in the job sector for technical talents. Companies currently require digital capabilities to run their operations. However, there are not enough individuals with those talents available on the employment market. Many large, well-established companies with a vast working population of highly skilled employees seem unable to embrace digital technology to improve their efficiency.
As a result, businesses are racing to hire digital marketers. It's also never a bad idea to learn a useful talent and start a career in digital marketing. After obtaining such a highly desirable skill, it simply means that you will get better-paying employment with more job stability.
2. Versatility
For job searchers and marketing professionals, digital marketing has unlocked many avenues. Digital marketing is a dynamic yet analytical industry that mixes technology and creativity.
It's adaptable, with various possibilities to try out and perfect on your own. You might either work as a digital marketer or in a more specialized field. So, there is a vast digital marketing career scope.
Remuneration, growth, variety, and quantification are why people switch from traditional to digital marketing. If you select a career track or a specialty in this field and subsequently wish to change, you'll generally need a little instruction to do so.
You can strengthen your existing skills while also discovering new abilities while staying in the same industry in this manner. There appear to be numerous choices to be taken here. As a result, there are opportunities for continual learning, where diverse talents are put together in many ways.
3. The Industry is Always Evolving
Irrespective about whether you're beginning to take the lead on such efforts or not, there's always something new and intriguing to discover as the business evolves and develops. Because there will be various experts operating in a particular workplace, you'll most likely be working alongside professionals from different backgrounds, with everyone coming together to create marketing systems.
4. Handsome Earning
When a job is in high demand, you have more leverage when negotiating remuneration. It makes no difference if you work for a company or as a freelancer. There seem to be various high-paying careers and job titles in the field of digital marketing. Digital marketing offers some of the top-paying careers and professions for both creative and technical activities. Digital marketing offers lucrative high-salary opportunities.  In this sector, you can look for full-time and freelance opportunities. Digital marketing wages can range from 6 to 18 lakhs per year and beyond, dependent on your experience.
5. You can be Creative
There are numerous opportunities for creatives to express themselves through writing, planning, design, and video and sound creation. Nonetheless, there is plenty of potential all-day creativity. Moreover, you'll be thinking about better ways to market things, solve problems, and interact with audiences.
6. Learn At Your Own Pace
You may start building this profession immediately, from your home and as per your schedule. Start online courses, start a blog or website, manage your social media, and do some volunteering or freelance work from your home. You'll be well on your journey to putting together an impressive portfolio.
7. Network Building
In a career in digital marketing, you'll always find something fresh to do – and somebody with whom to discuss your expertise. Whether it's a new customer, a coworker with a unique specialty, or finding creative methods to interact with and extend your customer base, anyone who enjoys working with people will thrive in the social and professional aspects of this profession.
Why is there a High Demand for Digital Marketing Career?
LinkedIn identifies "Digital Marketing Specialist" as among the top 10 demanding jobs, with 86000 job openings. Digital marketing talents like social media, content planning, SEO are in high demand.
There are indeed a lot of job chances in digital marketing since it has so a lot of elements. The digital skills gap is, in fact, a problem for the sector.
With so many job openings and not enough qualified candidates to fill those, now is an excellent moment to begin your career in digital marketing.
Career Opportunities in Digital Marketing in India and their Salary
Email Marketing
For generating sales and raising the visibility of products and services, promotion emails are sent to lists of consumers and prospects. Although when there isn't a hard sell, they're regularly sent out to engage audiences. Also, the email marketer's role is to experiment with various subject lines, content, and layouts to see which ones receive the most response.
The average salary includes from 2-5 LPA (Lakhs per annum) in starting and can go up to 15 LPA depending upon the experience, skills, and creativity.
SEO
The primary role of an SEO Specialist is to optimize a website for greater search engine rankings. It offers a comprehensive knowledge of how to get the most visitors from all search results. They also come up with strategies and plans to improve the website's ranking in search engines.
The average salary includes 2-3 LPA in starting, but with proper experience and results, you can earn up to 15-30 LPA.
SMM
A Social Media Manager is responsible for managing an industry's or brand's social media pages as well as developing the essential social media plan for content, marketing, and generating the greatest digital presence.
The average salary includes 3-4 LPA starting and can go up to 7-12 LPA as per experience and creativity.
Content Writer
An SEO Content Writer does analysis on relevant and industry-relevant issues and composes all online content, like blogs, social media posts, web content, adverts, and more, while taking SEO analytics, keywords, and other aspects into account.
The average salary is around somewhere 2.5-5 LPA.
SEM
The main difference between SEM and SEO is that SEM includes paid advertising. SEM managers study keyword analytics to determine out what people are searching for and how much to spend for those keywords such that the company's pages appear in search engine results. It's a mix of SEO and advertising that helps a website get more traffic.
The average salary includes 2.5-3.5 LPA, but with the increasing experience and knowledge, one can earn up to 9-15 LPA.
Be Your Own Boss
It can be challenging to make the decision to work for oneself, but the benefits far outweigh the disadvantages. Operating for yourself gives you flexible schedules as you've never had before. Owning a business allows you to allocate your time pursuing things you enjoy while also giving you the opportunity to grow your passion and business over time. So, learn what field you are excited about and start working on it.
There is no pre-defined amount of salary. You have the potential to earn high as per your skills, projects, and time devoted. The Sky is the limit.
Freelance
Freelance is another excellent option to start your career in digital marketing. You can pick up your preferred expertise, look for clients, sign up the contract, and you are good to go. Initially, you may find challenges acquiring, but there are many platforms you can find clients who urgently need experienced professionals.
Similarly, here the amount you can make depends on your skillsets, clients, and the time you devote. Here also, the Sky is the limit.
How to Start a Career in Digital Marketing?
So if you think that Digital Marketing is the right path for you then let's take a step ahead. The most convenient way to start a digital marketing career in India is to pick a reputable Digital Marketing Institute, which offers a top-notch Digital Marketing Course and training.
Well, we will make it easier for you. Quibus Training located in Jaipur offers the most advanced and in-depth knowledge about the Digital Marketing Course. They provide both an online and an offline course, and both the courses include digital marketing components and practical and frequent assignments. Their training and learning methods will help a beginner to make a great move in the field of Digital Marketing.
With extensive and practical training classes, learners will be able to put their knowledge into live projects and understand how each component of Digital Marketing works.
Bottom Line
Marketing is no longer primarily about television commercials and printed brochures. Marketing has evolved to include contacting you on your smartphones through social media and being the most relevant recommendation when seeking anything on Google. So, if you are wondering how to start a career in digital marketing, enroll yourself with Quibus Trainings to enter the world of Digital Marketing and secure your career.